By The Acclaim Team on 05th October 2020 in News
We know learning to drive can be an exciting prospect for many. The ability to drive not only will help you to get around the country more accessibility, but gives many young adults a sense of freedom when they purchase their first car. Many new drivers cherish this new found independence by going to see friends more often without any parental curfews, with many finding it easier to find a part time job. Crucially, this new way of life means that you no longer have to ask mum and dad to take you to tennis practice on the weekend.
This all sounds great, but before you go searching out your new car, you first need to pass your driving test. With more than 45 million drivers on roads across the UK, and thousands passing their test each week, there are increasing numbers of people wanting to pass their driving test. Learning to drive can also be perceived as costly, and with no real indication of when you may pass, or how many lessons will be required, working out a budget can be tricky.
How many driving lessons to pass?
Be it weekly driving lessons, or an intensive driving lesson course, you could be ready to pass your driving test in as little as 5 days! Although this won't apply to everyone, after being in the driving world for the last 35 years, we know a thing or two about how long it usually takes drivers to pass their test. Our driving instructors are the best in the business and will help you to pass your driving test as quickly as possible, however, you choose how you wish to learn.
Steps to successfully passing your driving test: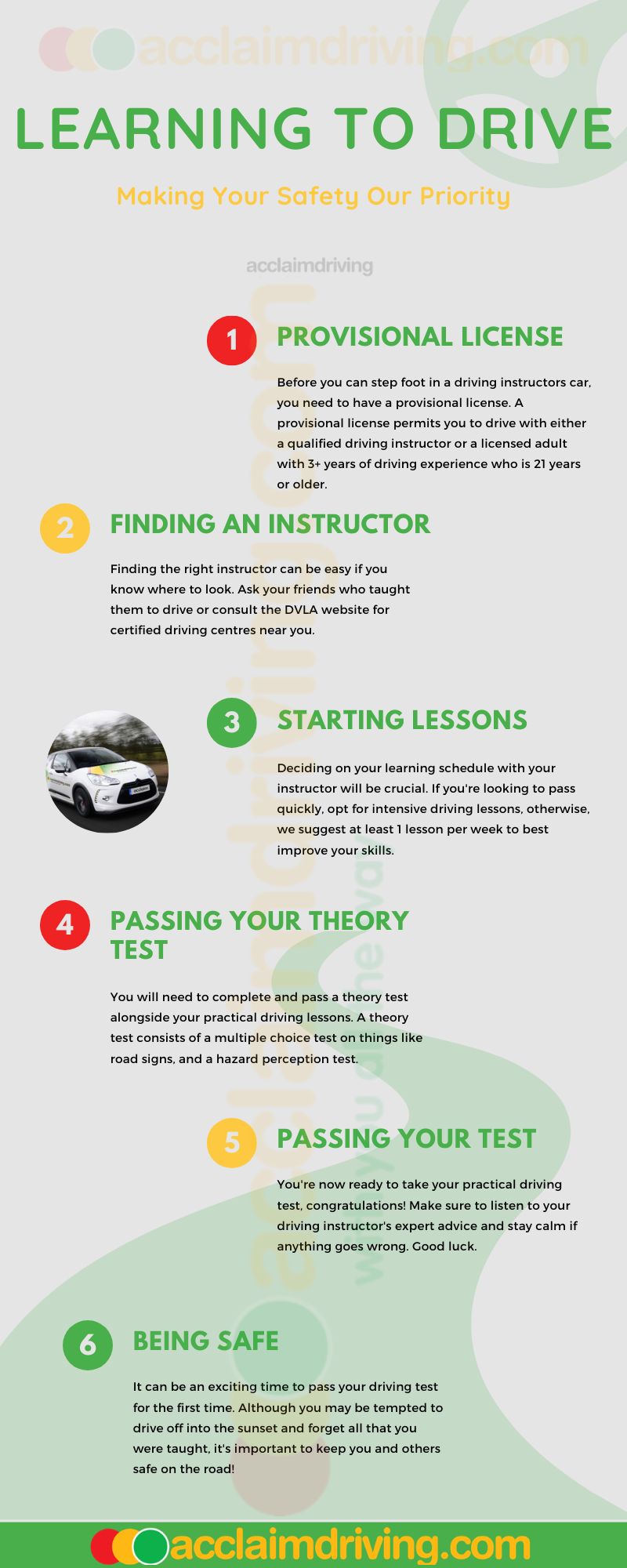 How many driving lessons are required by law to pass a driving test?
In terms of the amount of lessons you need to take in the eyes of the law, there are no set guidelines, as long as you have been taught and have passed your theory test, anyone can take a driving test. Although this may be the case, driving tests can cost upwards of £62 depending on the test centre, so it is advisable to have a good standard of driving before taking a driving exam, as we can assure you that luck alone can not get you through this test.
The average learner driver will require around 45 lessons of 1 hour before they are ready to take their first driving test, but this differs for everyone. For instance, drivers that have been driving their own vehicle (with another qualified driver) may need less lessons than someone who has no driving experience whatsoever. However, as mentioned earlier, these drivers may have picked up bad habits over time which could delay the test taking stage of the learner driver process.
When can I start driving lessons?
By law, you can start driving a car at the age of 17, although you are eligible to apply for a license when you turn 15 years and 9 months old. This license is called a provisional license and means that you can only drive if you are in the car with someone over the age of 21 and had at least 3 years driving experience themselves (with a full driving license from the UK, the EU, Norway, Switzerland, Liechtenstein or Iceland).
There are two routes you can take when it comes to passing your driving test; driving in your own or a family member's car and having a friend or family member teach you, or of course, have a professional driving instructor teach you to drive, and help you to pass your driving test.
Although it may seem like a worthwhile investment to choose the former option and have a family member teach you, we believe that a driving expert will have a much better understanding of what is expected of you in a driving test. Driving instructors will know how to improve your driving skills over time, and will always be the safer option since there are dual brake pads, making the driving lessons a much safer option for both parties involved. And most importantly, a professional driving instructor won't teach you any bad habits in the process.
The average number of driving lessons taken in the UK to pass
Everyone learns at different speeds meaning that learning to drive is a different process for everyone. There will be some learners who take their time to pass a driving test, while others may opt for more intensive driving courses so they can pass their driving test as soon as possible. The important thing is to listen to the advice of your driving instructor and only take the test when you feel ready. When the time comes where both you and your driving instructor feel happy for you to book the driving test, your driving instructor can then prepare you on ways to pass your driving test, with their expert experience in the field.
As mentioned earlier, the average learner in the UK will need 45 hours of driving lessons to pass the test, and may need more if you choose to learn without an expert driving instructor. Acclaim Driving offers various intensive driving courses if you are looking to pass your driving test quickly. Intensive driving courses involve concentrated learning to speed up your driving test pass rate. We offer a range of courses from 3 day, to 5 day, to even 10 day courses to help you pass your driving test quickly.
How long does it take to pass a driving test?
The length of time it takes you to pass your driving test will depend upon how regularly you book in driving lessons, the quality of your driving instructor, the length of time it takes you to pass your theory test (which must be passed before taking a practical driving exam), the type of car you choose to drive (eg manual or automatic), and whether you chose to invest in any intensive driving courses to speed up the pass time.
To learn more about how to prepare for and pass your driving theory test first time check out our blog which includes some great tips for you to share with family and friends.
The length of time taken to pass your driving test test will also depend on the time of year you decide to start lessons, for most people this will largely depend on the month of the year they turn 17 and are eligible for car driving lessons.
For instance, if you were to start driving in the winter and the road conditions were poor, driving may become unsafe, and it may take slightly longer to pass your test. If you want to know more about driving lessons, be sure to contact us to learn more from our expert driving advisors today.
Is it quicker to pass a driving test in an automatic car?
Because there are fewer manual controls in an automatic car, some drivers may find it easier to pick up the skills needed to pass their driving test faster. There are pros and cons to learning in both a manual and an automatic car. For instance, manual cars may take longer to learn in, however with a full manual car driving license you will be eligible to drive both a manual and automatic car right away, however, with an automatic license you will only be legally able to drive in an automatic car and it would require an additional test to be able to then drive a manual car.
The type of car you choose to learn in depends on your driving preference long term. If you are going to be stuck in a lot of traffic, or have trouble with stalling your car often, then an automatic may be better for you.
Here at Acclaim Driving we are always here to help with your driving test needs. Be sure to contact us, or reach out on 0800 838 440 if you have any questions about passing your driving test.